Fittest Trucker
[ Home ]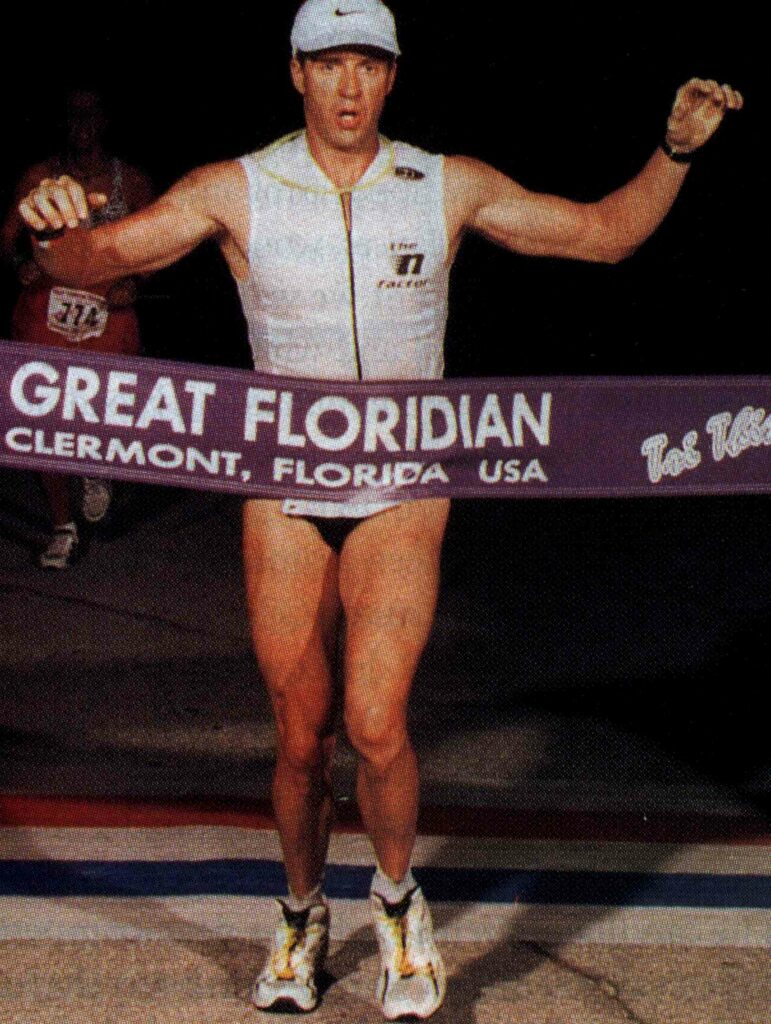 The Fittest Trucker in America-

by Rex Hammock, RoadKing magazine.
photos by George Chambers
On the road (and bike and water) with triathlete Jim Davis.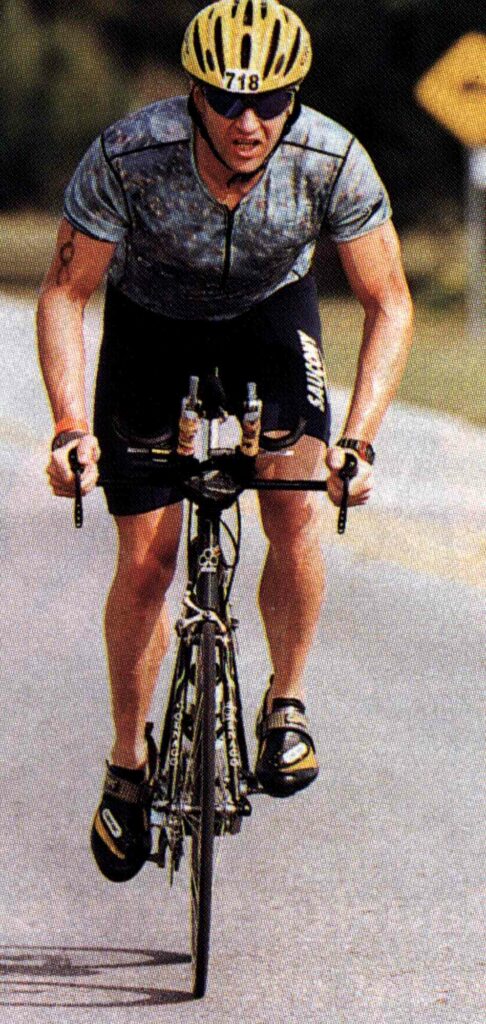 If being a trucker is your excuse for not trying to stay fit, then quickly turn the page. Learning about Jim Davis, 38, will ruin your day.
That's because Davis, a 50-weeks-a-year-on-the-road, coast to coast, household goods driver for most of the past 20years, is about as ·fit as a human being can hope to get. He's a serious competitor in one of the most time-consuming, challenging athletic events ever dreamed up, the Ironman triathlon.
Ironman triathlons are those ultra-endurance events you probably grew up watching on Wide World of Sports, in which athletes swim 2.5 miles, bike 112 miles and then end the day by running a 26.2 mile marathon.
Davis also races in shorter "sprint" triathlons, either half-Ironmans or the "international distance" of approximately 1mile of swimming, 16 miles of biking and a 6.2 mile run.
To seriously compete in an Ironman event — at Davis' level, the race involves about 11 or 12 hours straight of swimming, biking and running — he must follow a training regimen that would overwhelm almost any elite professional athlete. Each week while preparing for an Ironman-distance event, he typically rides his bike more than 250 miles, runs 50-70 miles and swims up to eight miles. Each day's training workout can take as much as four hours.
Add to that the unique challenges facing a trucker-triathlete — for instance, no regular training facility or, most notably, no predictable access to a training pool — and you can begin to see the daunting race Davis must endure even to reach the starting line of an event.
And speaking of the challenges of reaching an event: as a household goods driver, Davis faces the peculiar obstacle of never knowing where he might be on an upcoming weekend, so that planning and training for specific events is often out of the question. Rather, he must remain constantly aware of future races across the country and stay flexible enough to compete in events he may encounter in his travels.
It helps, says Davis, to haul for a supportive employer like Paul Arpin, for whom he drove until recently. For the big events, Arpin dispatchers and supervisors bent over backwards to route him to locations convenient to the race. (Davis is now in the process of re-locating to San Diego, Calif., where at press time, he was seeking a driving position that will allow him more time with his 12-year-old son of whom he has custody.) But challenges like these hardly faze him.
By their can-do nature, triathletes rarely focus on what they can't accomplish. They're all engaged in a sport that's virtually impossible to fit into any life or lifestyle, so the degree of impossibility is merely relative, Davis explains,
"Actually,I think trucking is a good job for a triathlete. I can set the times for my training without having to punch a clock." An early-to-bed, early-to-rise guy, Davis is working out before 5 a.m. every day. By 8:30, he has completed his training for the day and is ready to hit the road.
Davis discovered triathlons about five years ago when he saw a race while on a job in San Diego. "Right then, I determined I wanted to do one." Up to that point he had never been particularly athletic. "I played a little football and basketball growing up, but I never was that good. I never really excelled in any sport."
Before seeing that San Diego race, Davis' only fitness efforts were jogging two or three miles, "which I didn't really enjoy," and some mountain biking. Another seemingly impossible barrier to his new goal was his lack of swimming ability. "When I saw that first race, the longest distance I could swim was maybe 50 yards" — about two lengths of a typical training pool.
Never reluctant to call upon the help of strangers, Davis began his quest for improved swimming by watching and copying the strokes of others and then by seeking the advice of expert swimmers and coaches. "I'd ask them to watch me swim and tell me what I should do."
Despite consistently finishing in the top of his age group in events across the country, Davis claims he "has no talent" for any of the three sports that make up triathlons. "For me, it's more about raw determination than it is about talent."
Any trucker can get fit, Davis insists. "It's a matter of what someone wants to achieve," he believes. "You don't have to put in the hours that I do. You can spend a few minutes every day doing something to exercise. You can eat healthier." It's a matter of choices and priorities, he says.
Davis shares the ultimate goal of any amateur triathlete competing in the Super Bowl of ulra-triathlons the Hawaii Ironman. Although there is a lottery system for selecting some non-professional triathletes to compete in the event each year, Davis is set on gaining a slot the old-fashioned way: earning it by placing high enough in his age group (35-39) at one of the many regional qualifying events held each spring and summer. Few who meet him doubt this trucker-triathlete will endure whatever distance it takes to make it to Hawaii.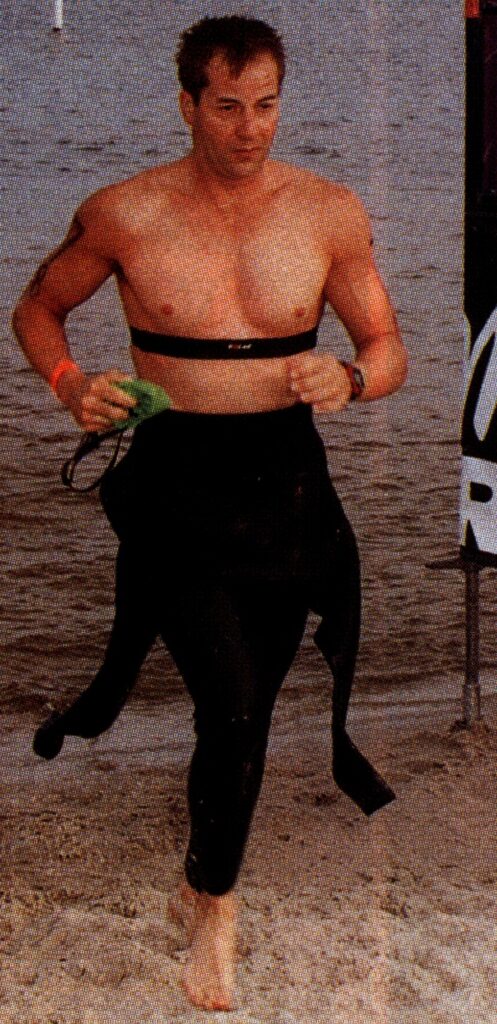 Being a Trucker Can be Tri-ing for Training
When you are on the road 50 weeks a year, you must overcome a mountain of challenges most triathletes never face, for instance, being in a new town every day. Here are just a few ways that Jim Davis copes:
Pool Time: Davis has a thick black book in which he has compiled a list of YMCAs, public pools and other facilities he can use. He usually even knows where and when local "master" (adult competitive swimmers) groups train. He knows if they will let him park his rig or if he must ride his bike. Favorite: Ft. Lauderdale, Fla.
Running Routes: Safety is a major factor when running in new towns each day. Davis has a list of favorite, safe routes he's learned over the past five years. Favorite: Walnut Creek, Calif.
Biking Routes: If you think about it, Davis has a chance to do something most bicycling enthusiasts only dream about. He has literally ridden his bike to every corner of America. Again, he has lists of favorite, safe routes. When time or weather prevents road training, he has set up the bottom bunk space of his sleeper for stationary "spin training." Favorite: Boise, Idaho.
Nutrition: Davis eats constantly, at least every two hours, to keep up his energy. He eats primarily fruits, grains, vegetables and "a little fish." He shops at health food-oriented grocery stores, again, for which he has directories. "By trial and error, I know what my body needs," Davis says. "I read lots of books about nutrition."
Thanks to Tommy Nettleton for bringing this article to our attention, to Bill Hudgins at RoadKing magazine for allowing us to use the article, to its author, Rex Hammock and also to George Chambers for his photographs. Please note that the photographs that appear here were scanned in from the magazine and much quality was lost. Mr. Chambers photographs triathlons, marathons and more.  So, the next time you receive that little proof in the mail, let's not forget the photographer and his crew who took the time to come to travel to the event and take your picture. Don't just keep the proof – let's support the photographers as well. 
[ Home ] [ House Bill 1789 ] [ Powerman Alabama ] [ D'Woodville Loop ] [ USCF Time Trial ] [ TC ] [ Lance Armstrong ] [ cohen ] [ '98 FYF Pix ] [ Broken Foot ] [ Foot #2 ] [ Gulf Coast Tri Report ] [ June 13, 1998 ] [ July 18 Weekly Report ] [ Fittest Trucker ] [ MS-150 ] [ Minden Trail ] [ New Trail in N. LA ] [ USCF District Rep ] [ Official's Corner: 10.1 ] [ Pointe Coupee Banner ] [ QR Show ] [ Road Rage ] [ Rouge ] [ Sunderman ] [ Tri Fever ] [ Tour d ] [ Tangipahoa Ordinance ] [ USCF Cycling and Triathletes ]